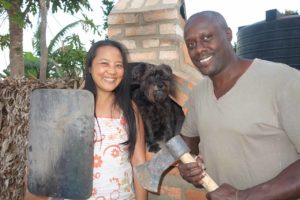 Medie has worked in various settings and sub-specialties within pediatric nursing since 1998, as a clinician and educator.  She was first drawn to global health  during volunteer trips as a nurse, and later studied public health to broaden her understanding of population health and its determinants.
She has been in Rwanda since 2013, first working with Partners in Health (PIH) and now with Human Resources for Health (HRH) as a nurse educator then as pediatric faculty in Rwanda's first Master of Science in Nursing program.  She is joined by her husband, Robbin Parrott, who is also a KU member and helps with fundraising and social activities.
She worked alongside Emily Esmaili at CHUB in early 2015, where they and others conceived the idea for a multi-component patient nutrition program.
"I feel so fortunate to be part of this effort that combines several of my passions: public health, nutrition, sustainable farming, community education, and entrepreneurship.  It still amazes me that we have been able to create and sustain a program that impacts so many families.  This is thanks, in great part, to the generosity of our partners and the hard work and dedication of our staff to whom I am extremely grateful."