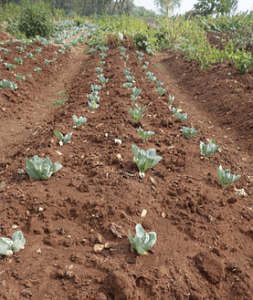 I was lucky enough to visit the program in June, after more than a year of being away. What has happened on the farm in my absence can only be described with one word: growth. What began last year as F4CH (Farming for Child Health) has evolved, expanded, and grown beyond expectation. The farm has flourished and now feeds 100 patients (instead of 30), plus 15 farm workers, an agronomist, cooks (now 3 instead of 1), and several volunteers. The meals are largely from our own organic produce.

When I walked back behind the hospital to see the growth with my own eyes, the sorghum towered above us, bean plants stretched out in rows (230 kg of beans in June alone!), and the compost pile had tripled in size. But most stunning was a small, newly installed spigot that eliminated the need for hauling water down to the fields in huge plastic barrels and ladling it out over the plants—which is common practice on most of Rwanda's fields. And, now that CHUB has granted us even more land, plans are already underway to develop and diversify our farm even further—enabling us to feed even more patients.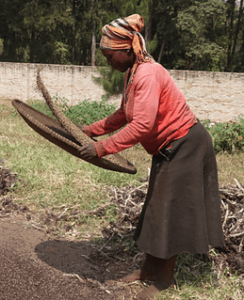 Growth of food was only one way in which the project had progressed: programs had also grown and expanded, thanks to the tireless efforts of Laurette and Medie, and now our newest member Ange. Together they have organized several workshops, in order to train trainers of nutrition and sustainable agriculture. They have established KU as an official local NGO in Huye (no small task as those working in Africa know well), and have expanded our network of partners and supporters. And, they have increased our livestock from 3 to 13 with a few litters of piglets. The list of ongoing sub-programs goes on: making briquettes from recycled trash to reduce the need for cooking wood; conducting a research study on food scarcity and malnutrition among hospitalized patients; introducing moringa, a plant with multiple health benefits; and the list goes on and on…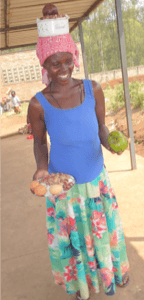 While our literal and figurative growth certainly exceeded my expectations, sadly our funds have taken an opposite turn. While this is no large surprise for a project that gives away everything it produces, it still leaves the program in a tight bind. We still rely completely on donations. Though we are working on a feasible business model to offset some operational expenses, I still believe the true value of KU goes beyond what can be measured in dollars—or francs. The unseen benefits of whole, sustainability grown nutrition—along with new knowledge of food, health, and farming—will continue to ripple out in the lives of the beneficiaries, their families, and their communities.
Perhaps the patients themselves already appreciate this unseen value; the smiles on their faces suggest as much when they are handed a plate of farm-fresh food. Those smiles were perhaps the most rewarding part of my return to Rwanda.
 Emili Ismaili